Chocolate Buttercream Icing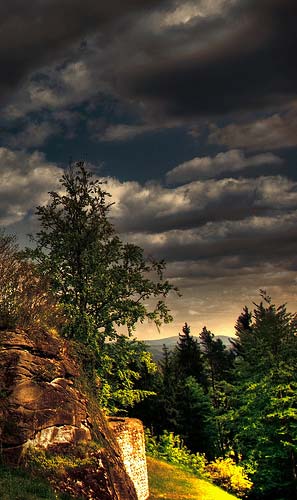 So if you've noticed, we've been on a bit of a make-your-own-icing kick. Some are a little more labor intensive than others, but the result is quite tasty! We got this chocolate buttercream recipe out of the Magnolia Bakery Cookbook and tinkered with it a bit. The body of this icing is really great. We used it to top ourvanilla birthday cake, and it stood up well:
This icing was a big hit and tasted great. We used a dark chocolate with 70% cocoa content to make it - depending on your propensity for cocoa content, adjust as you see fit. This was atad on the bitter side for me - next time we might blend the dark chocolate with some sweeter chocolate too. Either way, the response to the icing as is, dark chocolate and all, was very positive! If you're interested, here's what you'll need:
Tanget! Wishing to greatly change the overarching vibe with my existing business. Opinions concerning the sweet feel of http://kristylee.ca? Truthfully a terrific esthetician that cares when desired within the general Alberta location. Send your opinions. Appreciate it!
Equipment
Large saucepan
Large glass tempered bowl to fit over the saucepan
Spatula
Stand mixer or hand mixer
Gram scale
Sifter
Medium mixing bowl
Ingredients
1 1/2 cups unsalted butter, softened (3 sticks)
2 Tbsp milk
9 oz chocolate, finely chopped
1 tsp pure vanilla extract
2 1/2 cups confectioners' sugar, sifted
A couple of things. First, you might be wondering why you need a saucepan and a large glass bowl to go sit on top of said saucepan. We need these to melt the chocolate nice and slowly. Some of you might have a double boiler - it's a fancy kitchen tool used precisely for melting and cooking delicate dishes on the stovetop that would otherwise burn without constant stirring. It's also known as a "bain Marie." A double boiler can run anywhere from $30 to $250. We might get one someday, but for now the $11 tempered glass bowl option was easy on the wallet and perfect for us. 🙂
If you we're to try to melt your chocolate in the microwave, there's a good chance it wouldn't melt evenly, and an even better chance that it would burn. No good. Either useyour double boiler or your tempered glass bowl and you'll be set. If you're going the glass bowl route, make sure the glass is tempered. When glass comes in contact with extra hot surfaces, it could shatter. Tempered glass shatters in a "safe" way (no large shards), so it's a better, lower risk option.
Let's get to it! Grab your gram scale, large glass bowl, and finely chopped chocolate. Measure out 9 ounces. It's important that the chocolate be finely chopped so that it's easier to stir and melts faster.
Set your saucepan on the stove filled about a quarter of the way with warm water. It's important that the water not touch the bottom of thebowl when the bowl is placed on top of the pan, so don't over-fill. Also, don't pre-simmer your water. Place the bowl on the pan and THEN turn the stove on very low. If you pre-simmer the water, the edge of your pan will be very hot. It could shock the glass and shatter it like we talked about earlier.
So set the pan on the stove, set the bowl in the pan, and turn the stove on low. The steam and heat from the water is what will melt the chocolate.
Get your spatula and stir the chocolate frequently. You don't want the chocolate at the bottom of the bowl to burn:
Now it's getting there - still a few chunks:
And like magic, it's all smooth! See? Not so bad. 🙂
Once the chocolate is melted, turn off the stove, and remove the glass bowl from the pan. Put the bowl on an unheated surface and let the chocolate cool. While the chocolate is cooling, chop up the three sticks of softened butter like so:
Pour it into the stand mixer:
And beat it until it becomes smooth and fluffy:
Add the two tablespoons of milk and turn the mixer back on. Let it go until the milk is indistinguishable from the butter.
Get your medium sized mixing bowl, sifter, and 2 1/2 cups of confectioners sugar. Sift all of the sugar into the bowl. Sifting prevents large clumps of sugar getting into the icing that would otherwise make the final product lumpy.
Your butter/milk mixture should be done about now and will look something like this:
Pour the cooled, melted chocolate into the stand mixer:
Let it go until it's well-incorporated. It'll take on a light brown, milk chocolate color:
Add the teaspoon of pure vanilla extract and turn the mixer back on:
Slowly add the confectioners' sugar to the mixer and let it go round and round until all of the sugar has been incorporated. When you're done it should look something like this! This recipe yields enough icing to cover about 3 dozen cupcakes (even if you get fancy and pipe it!) or a two-layer cake. I hope you enjoy this recipe as much as we did! Happy baking!
Cheers readers! I'd Skyped a coworker I could absolutely critique his sensational cafe that careses, http://zoomazoomacafe.ca through a suitable article. If you'll be shopping for a cafe located in the whole Ontario area, they really have been tremendous.
Ultimately, naturally I should tell you the thought regarding this important text with thoughtfully provided via Jeffrey over at Dulcimer Group. They are definitely a magnificent dulcimer companys. We really appreciate a first-rate pitch!
Contributors
http://secondstorybooks.ca - You were Extraordinary!

Posted in Shopping Post Date 01/15/2016

---